Today I have a happy announcement to share with you. I recently was invited to join the Design Team at
Frilly & Funkie
. This is a bit like old home week for me because Linda Coughlin, the owner of Frilly & Funkie along with another of her designers, Sue Carrington were teammates of mine when I was on the Design Team for Isabella's Sketchbook.
I will be part of the frilly team and today is my first post. I am doing the Saturday Step X Step and sharing how I made the card that I posted last week called Love Hearts. Here is a little sneak peek at the tutorial, which you can find
here
.
The most wonderful part of the Frilly & Funkie blog is that the Design Team does two tutorials each week - one on Friday that focuses on a product in Linda's store and another on Saturday where you can find out how something was created. Also, you not only get to share your creations in their challenges, which run every two weeks but you can also share a project in their Sunday Share feature as long as you have used products from Linda's store in that project.
Now if you haven't shopped at
The Funkie Junkie Boutique
I encourage you to do so because the prices are at least 20% less than the manufacturer's suggested retail price and Linda has the most wonderful customer service.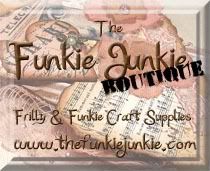 I will be back on July 10th with my first challenge project for Frilly & Funkie and hope you will join us.